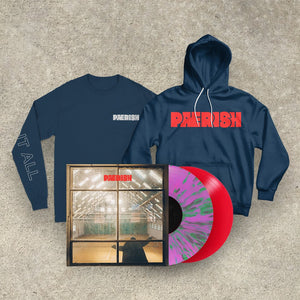 Sometimes, Pærish guitarist/vocalist Mathias Court will sit down in front of a movie, TV episode or video game and play around on his guitar. The idea is for him to capture and channel the emotion of what he's watching into music by what's on the screen. 
That's exactly what happened during the making of the Paris-based band's second full-length – and first with iconic label SideOneDummy – Fixed It All. Court was watching a video game stream on Twitch when he heard a riff. He immediately stopped the Twitch channel, opened Logic Pro and songs started to emerge. That might sound like an unusual process, but it makes sense. The three founding members of Pærish – Court, bassist Martin Dupraz and drummer Julien Louvion – met at film school in 2010. A few years later, guitarist Frédéric Wah joined. While he wasn't at film school with the others, he's also equally obsessed with films.
Pærish have made friends and toured with a plethora of high-profile American and British bands, from Sum 41 to Silversun Pickups, Moose Blood to Movements – something that's practically unheard of for a French band to do in the alternative rock scene. It truly shows how transcendental their music is, and how easily it can break barriers that plenty of others have failed to break. You might think that would cause extra stress for the band, but it doesn't – Pærish just want to focus on themselves simply by pushing themselves to improve with every song they write.

Tracklist
Fixed It All

Archives

Journey of the Prairie King

Albert Suffers

412

Mike + Susan

Violet

You & I (feat. Patrick Miranda)

Water Doctor

Hollow
Vinyl Pressing Info:
1ST PRESSING
500 - Opaque Red Vinyl
500 - Neon Violet with Neon Green Splatter Vinyl